Shop Kimpex WSS4 Track Kits for Your Polaris UTV
Track Systems
UTV
Polaris
WSS4
Kimpex
$350 Camso UTV 4S1 Factory Rebate!
If you've recently made the purchase of a track system that qualifies, submit your claim to get your rebate.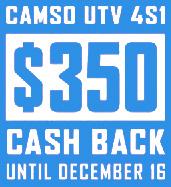 Camso track systems: Allies of the fire heroes
Powering the Protectors: Camso Track Systems in Action with Minnesota's Warren Fire Department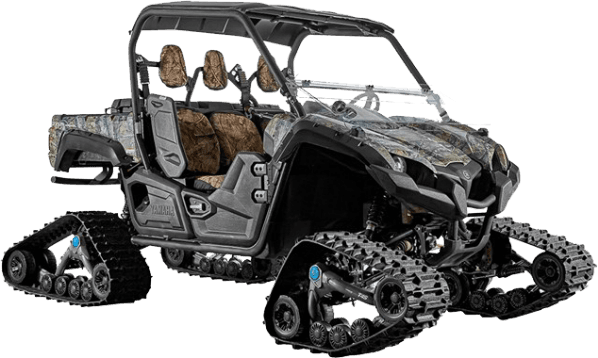 Camso Track Systems have proven themselves to be invaluable allies to those whose bravery keeps us safe - our firefighters. The Warren Fire Department in Minnesota is just one of the many examples where Camso's advanced track technology has been put to the test and excelled.
Navigating Rugged Terrains
When it comes to forest and bush fires, every second counts. Access to remote locations can be a challenging hurdle, but Camso track systems offer a solution. Designed for superior flotation and stability, these systems allow side-by-side vehicles to glide over rocky terrain, through dense undergrowth, and across rugged landscapes. This increases the speed and efficiency of the fire department's response, allowing firefighters to reach the heart of the fire more rapidly.
Reliability in High-Risk Situations
Camso track systems not only offer impressive mobility, but they also provide reliability when it matters most. These systems are constructed to endure harsh conditions, including high temperatures and abrasive environments that are often encountered during fire control efforts. This robust performance provides peace of mind to the brave volunteers of the Warren Fire Department, knowing that their vehicle is equipped to handle the demanding situations they face daily.
Supporting the Unsung Heroes
The volunteer firefighters who risk their lives to protect our forests, homes, and communities deserve the best equipment available. Camso track systems provide these unsung heroes with the extra support they need to perform their duties efficiently and safely. The enhanced flotation and stability of these track systems contribute to safer navigation, reducing the risk to firefighters and enabling them to focus on their mission.
In the Line of Fire with Camso
The Warren Fire Department's use of Camso track systems is a testament to their versatility, durability, and reliability. From the flotation benefits that ensure rapid response, to the stability that provides safe navigation in challenging terrains, Camso track systems have proven themselves to be true allies of our fire heroes. It's another example of how Camso is driving progress and supporting those who keep us safe.
Shop Camso and Kimpex Track Kits for Your Polaris UTV
Discover the perfect track kit for your Polaris UTV in our extensive selection of Camso and Kimpex track kits. We understand how crucial the right track kit is for your vehicle's performance, durability, and safety. That's why every kit in our range undergoes rigorous testing for a perfect fit and enhanced performance.
Our Camso and Kimpex track kits are complete, meticulously engineered solutions designed to meet the unique demands of your Polaris UTV. Featuring a broad selection of high-quality components, our kits are tailored to ensure your vehicle's track system operates at its best.
Whether you're aiming to maintain, repair, or upgrade your vehicle, our range of Camso and Kimpex track kits are guaranteed to deliver reliability and superior quality. Explore our catalog today and find the perfect track kit to match your Polaris UTV.